Vacation at the beach!
To each his own beach! In Mandelieu-La Napoule, seven fine sandy beaches are set against the unmissable Lérins Islands and the red rocks of Estérel. Sports, family, secret beaches, all offer an ideal environment to unwind and relax with family and friends!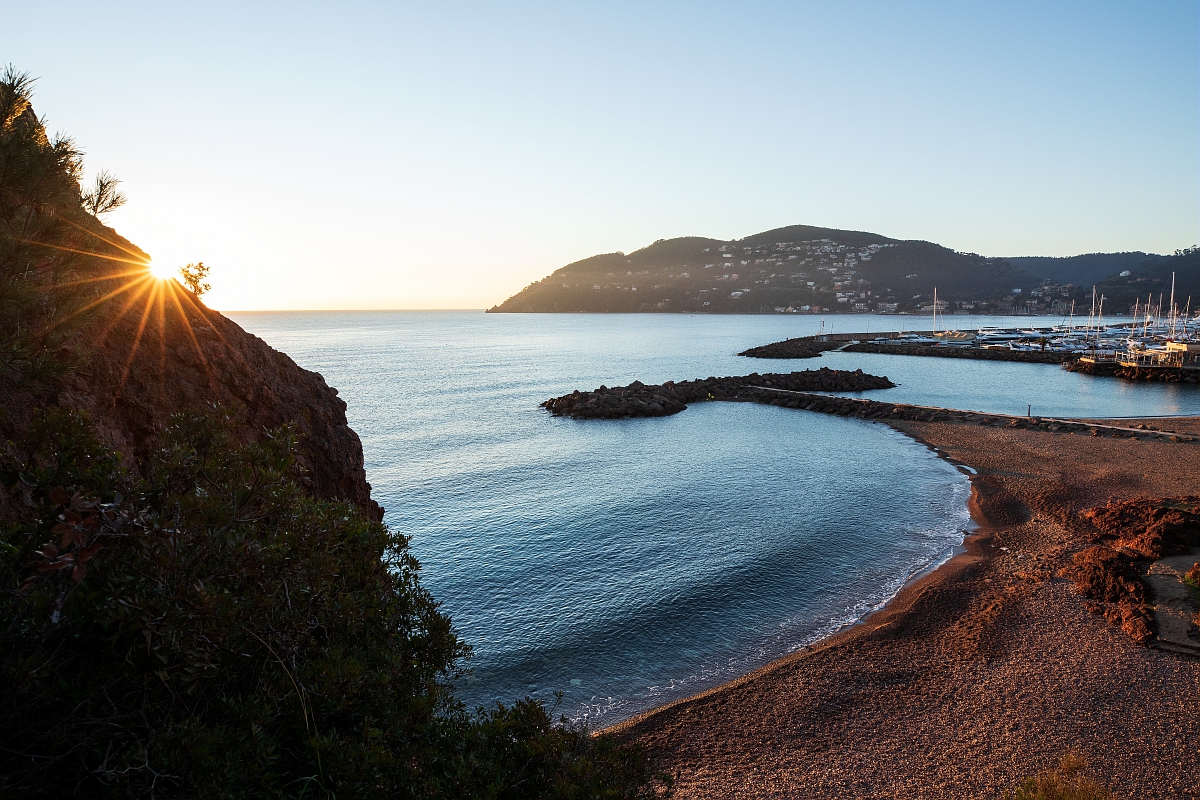 Dauphins, Sable d'Or, Robinson and Fon Marina beaches are rather sporty and family-friendly, there are beach volleyball courts, the "Les Voiles de Lérins" nautical base and large spaces surrounded by secure dykes. We regularly meet members of the Club de Longe Côte!
The beach of Château de la Napoule and that of Raguette along the path
of the Coast. They are popular with families because children can play on them
quietly while having foot over a relatively large distance. Ideal early in the morning in summer, for lovers of paddleboarding or morning swimming!
La Rague Beach. Secret beach of the French Riviera, it marks the end of the coastal path. It is a refuge that juxtaposes the Port of the same name. Its 360° decor is impressive: overlooked by the Château d'Agecroft and the red rocks of the Estérel, a charming pontoon - starting point for nautical activities - has in sight the Château de la Napoule and the Islands of Lerins.
The surrounding restaurants offer a chic and trendy decoration. You can play pétanque, a game of volleyball or simply contemplate this ocher-coloured landscape. The beach library is installed there during the summer season. It is also the starting point for diving enthusiasts (in addition to the club installed on the Port of La Napoule).
GREEN ATTITUDE! IT'S FREE !
.The beaches and tourist sites of Mandelieu-La Napoule are easily accessible thanks to the many FREE car parks.
All you have to do is place a blue disc on its windshield, which you can get at the Mandelieu Tourist Office.
.Two free shuttles are put into service in July and August.
THE COAST will crisscross the seaside from Port de la Rague to Rond-Point Etienne Romano, from 8:30 a.m. to 21:30 p.m. – 7 days a week.
THE MIMOPLAGE SHUTTLE will provide passenger transfers from the city center to the beaches. Free – 7 days a week – From 7:8 a.m. to 35:22 p.m.
All information from the Mandelieu Tourist Office – Tel: 04 93 93 64 64.