The Tanneron Massif
The Tanneron Massif is the cradle of Mimosa cultivation: wild mimosas and mimosa plantations, it is considered the largest Mimosa forest in Europe.
This territory is shared between the Var and the Alpes-Maritimes. It is discovered all year round and more particularly from mid-December to March, the flowering period of mimosa flowers. The Massif du Tanneron is more than 5200 hectares including 1100 hectares in Mandelieu. A remarkable and fragile natural site!
Walking tours
Le Grand Duc – the "queen" hike, the must!
Located on the first slopes of the Tanneron, the communal forest of the Grand Duke, whose management is entrusted to the ONF, offers a veritable belvedere above the Mediterranean. Covering an area of ​​93 hectares, there are some 30 kilometers of trails and trails that allow both to enjoy exceptional views of the coast, and to discover the specific forest flora of this Massif. Tables of picnic are installed at the place of departure of the hiking loops. It's'ideal route in winter to take advantage of family or friends flowering mimosa.
Secret walks
The most curious will be surprised to discover that a stone's throw from Place de Capitou -THE district of Mandelieu's mimosa enthusiasts- paths take walkers directly to the heart of the mimosa forest. La Vernède walk offers a botanical discovery punctuated by spectacular views of the Mediterranean.
Other routes exist from Capitou by taking the GR 51 which then joins the Grand Duc forest. Don't forget to bring the HIKING BROCHURE: "The 15 most beautiful hikes from Mandelieu" – On sale for 5 euros at the Mandelieu Tourist Office.
Bike tour
It is another advantage to be able to change the plant decor according to the seasons in this exceptional site.
Starting point: beginning of boulevard Paul Tarascon
Point of arrival: entrance sign in the Var department
This segment is 7.5 km long with 450 m of elevation gain.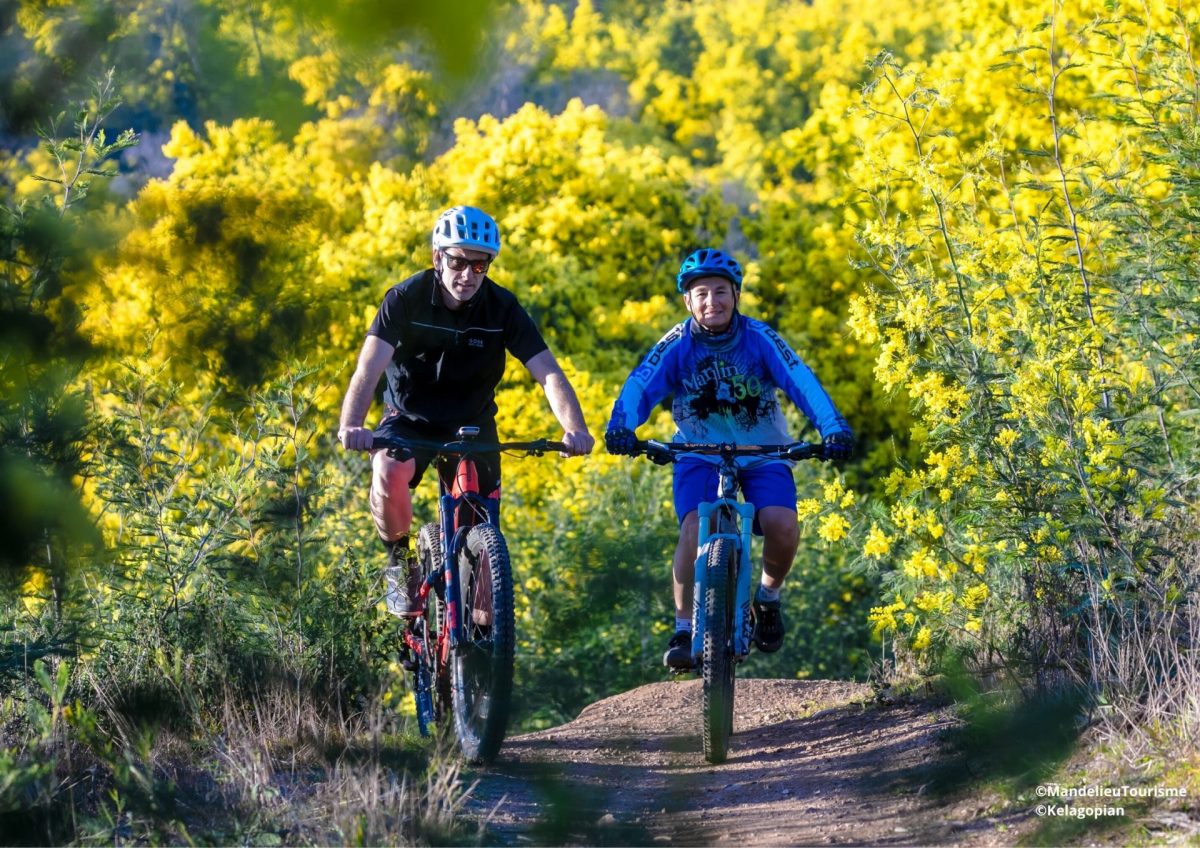 Car tour
Departure to Mandelieu-la-Napoule on departmental 92 with a view of a magnificent panorama of the coast, the islands of Lerins, Cannes and its surroundings, the Summit of the Alps.
During the journey, you will enter the forest of Mimosa, in the heart of the Massif.
Arrival at the village of Tanneron you can visit the "Chapelle ND de Peygros", the mimosa forcing factories and their local products.
Resumption of the winding road D38, offering you many panoramas on the oak forest, mimosas, eucalyptus, on the Siagne Valley and the chain of Southern Alps.
Arrival at Lake of St Cassien for a break of freshness and relaxation.
Resumption of the road towards Mandelieu-la Napoule via the A8.