The Mimosa saga: Emmanuelle de Marande Park.
Listen to the podcasts to discover this mimosa arboretum.
Two versions are available in French, on simple download.
Children version
Adult version
Admission is free and free, but you can also benefit from a guided tour offered by the Mandelieu Tourist Office. Information from the Travel Advisors.
Mandelieu-La Napoule cultivates its image as the Capital of Mimosa.
With its surrounding natural winter scenery made up of the Tanneron and Grand-Duc hills covered in mimosa, a Mimosa arboretum in Capitou was created in the historic district of mimosists. It is thus in this garden baptized Emmanuelle de Marande Park that one can find a collection of some 100 species of mimosa, enriched with an open-air exhibition, relating the history of mimosa and Mandelieu.
The purpose of the exhibition.
This exhibition tells the story of Mandelieu-La Napoule and the Mimosa. It is a story of Men and Women who modestly contributed to building a national image for this city, thus giving it an identity and a mark thanks to painstaking work and know-how that offer more than a century more later, a great opportunity to establish Mandelieu-La Napoule in the winter tourist landscape in France and beyond the borders.
This exhibition aims to pay tribute to the families of mimosists, those who knew how to export thanks to their work from the 1920s, this fragile and delicate little flower that covers our hills every winter and to make it not only an economy but also a tourist attraction.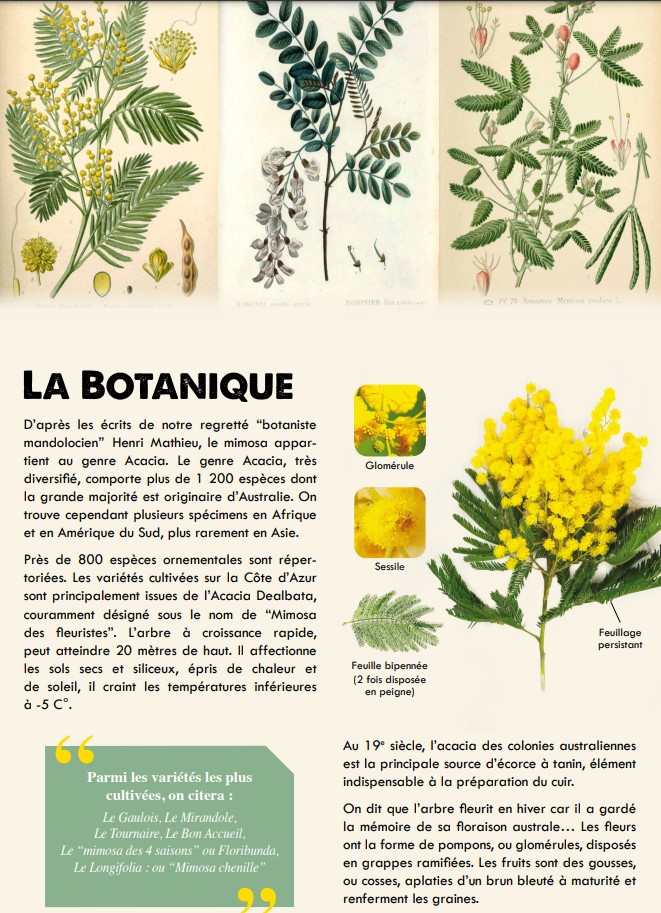 Free entry and free.
Parc Emmanuelle de Marande – Avenue Général Garbay and Chemin du Bon Pin – 06210 – Mandelieu-La Napoule.