HURRY.
Welcome to the press area of ​​the Mandelieu-La Napoule Tourist Office!
You are a journalist and you want to be informed about our destination?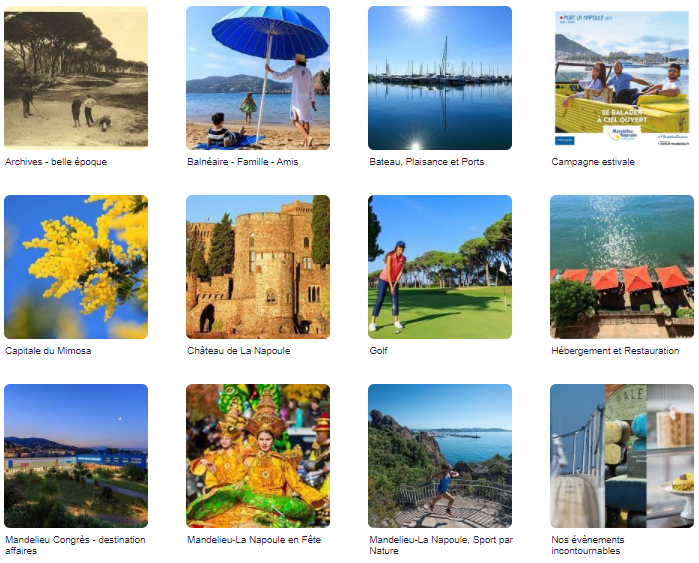 GROUPS.
Welcome to the Professional Area of ​​the Mandelieu-La Napoule Tourist Office!
The Tourist Office offers assistance in organizing your group trip. Departing from Mandelieu-La Napoule, we can develop your tailor-made program according to your requirements and your desires. Our destination is by the sea, halfway between St Tropez and Menton, 15 km from Grasse, with a motorway exit in the town centre, ideal for exploring the region.
Do not hesitate to contact us on 04 93 93 64 64 or by email: accueil@mandelieu-tourisme.com
The programming of the Winter Festival on the Côte d'Azur.
When mimosa festival.
Dedicated parking is graciously offered to you for the purchase of your mimosa group ticket office (from 20 people).
Remember to ask for the preferential rate for the corso if your group is accommodated in the town.
MANDOLOCIAN SOCIO-PROFESSIONALS.
The role of your Tourist Office is to welcome and inform visitors but also and above all to promote the town of Mandelieu-La Napoule.
As local tourism professionals, we must include our actions in a collaborative approach. Provide an optimal quality service to visitors, build their loyalty and win new customers.
You benefit from the experience of a professional team trained in developments in the tourism industry. We are here to advise you, educate you and support you throughout the year. Here are the contacts of the resource persons of the Tourist Office and their contact:
Pierre-Louis Roucaries
CEO
Odile Delannoy
Deputy Director and Director of the Center Expo Congrès
Isabelle Gamba
Human Resources & Reception Office Manager
Sophie Brugerolles
Communication & Press Manager