#MandelieuSportParNature
An extraordinary environment : the Mediterranean, the foothills of Esterel, protected parks, a river– La Siagne– whose banks are developed. It's a real playground for sports holidays on the Côte d'Azur!
Land side.
Bicycle tourism.
Departing from Mandelieu-La Napoule, enthusiasts can climb the demanding ascent of the Grand Duc towards Tanneron, unroll the legs on the eternal Corniche d'Or or go back to the old one National road 7 which borders the Mediterranean.
The Eurovelo 8. It is an ambitious program to link the foothills of the Pyrenees to the foot of the Alps. About 800km from one end of the Mediterranean arc to the other, practicable all year round to discover in slow tourism mode from Cadiz to Izmir, 11 countries crossed by bike! Mandelieu-La Napoule is now one of the stages on this itinerary!

Mountain biking in all its forms.
What characterizes Mandelieu-La Napoule is the wide variety of tracks and trails suitable for all mountain biking practices and levels. All year round, coastal hikes with pronounced reliefs with plunging views of the sea are open. In winter, descents in the middle of flowering mimosas are real training tracks for enduro champions. These tracks are frequented each year by many bicycle manufacturers who come to test their equipment there. We regularly come across Loïc Bruni, five-time World Champion for his winter preparation and product tests. Finally, different levels of routes, from expert DH or XC, to family outings, not forgetting routes adapted to Gravel and eBikes, make it an essential destination for the practice of these disciplines.

Hiking.
There are many landscapes around and in the heart of Mandelieu-La Napoule. In autonomy or accompanied, it is a question of linking sport, pleasure and health. It is alongside guides and experts in geology or botany that you can discover the "king" trails or the secret walks of Mandelieu! Information from the Tourist Office Reception Office. Tel: 04 93 93 64 64.
Tendency ! Hiking at sea: the Longe-Côte.
Sport-health par excellence and multi-generational, this practice is affiliated with the French Federation of Hiking. In Mandelieu-La Napoule, it's Alison who takes care of discovering water walking!
Accessible all year round.

Running, Triathlon, Trail.
From classic Sunday running to the physical performance of triathlons, Mandelieu is an ideal training ground. The most seasoned athletes testify to this, the variety of terrain, the multiplicity of courses are recognized internationally. A unifying Club in Mandelieu-La Napoule: the ProTeam Sports includes high-level athletes.
Event organizers choose Mandelieu-La Napoule and the calendar is marked by international sporting events.
Tennis, padel.
Mandelieu-La Napoule offers tennis and padel courts accessible to our visitors: on a course or for a simple tennis encounter...
Golf side.
To learn more about Old Course Golf and the Riviera Golf Barbossi.
Sea side.
Diving, rowing, long coast, sailing, swimming, water skiing, wake boarding, wake surfing, paddle, pedal boat, catamaran, kite surfing…. So many activities to reconnect with nature, by the sea! Fun, sharing, memories for a successful holiday!

Mandelieu-La Napoule is a seaside resort which offers around thirty nautical leisure activities to practice from its beaches.
One of the key places of the Destination is its Nautical Center: "The Sails of Lérins" which offers multiple boats, for young and old and for all levels. In addition to the classic activities (kayak, windsurfing, kite, paddle, catamaran...), you can also learn or practice new disciplines such as wing sup or the windfoil, for new sensations!
More information: Municipal Nautical Center of Mandelieu-La Napoule: Les Voiles de Lérins. Such. : 04 92 97 30 77.

Turnkey nautical bases et diving centers also offer boat rentals and services to enjoy various activities on the sea.
For boating enthusiasts, let yourself be tempted by renting a boat at sea or by a gentle electric boat ride on the Siagne. Mandelieu-La Napoule, a nautical destination!

TIPS :
Download the MANDELIEU, SPORT BY NATURE app (Android or Apple Store)
Check with the Tourist Office!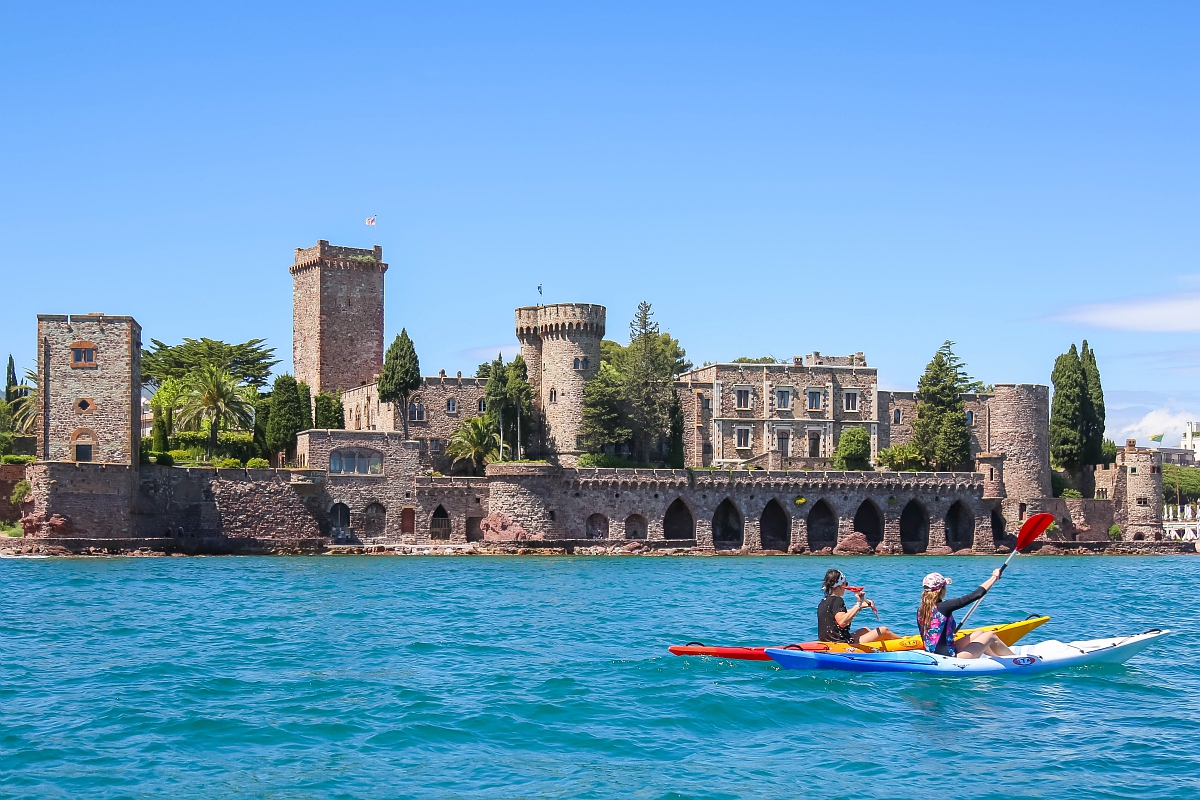 Diving.
The Mediterranean is obviously the other space to invest gently. Two diving centers are open all year round in Mandelieu-La Napoule. The opportunity to discover through this discipline more than 40 multilevel sites and sheltered from the prevailing winds by the Lérins Islands and the Estérel Massif: dry areas, drop-offs, caves and wrecks.

Rowing.
The Rowing Club of Mandelieu was created in 1931. Based on the Siagne canal, its proximity to the sea offers competitive rowers as well as those in the leisure or school sections the possibility of evolving in particularly pleasant surroundings.